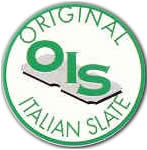 Ardesit is recognized as a world class manufacturer of fine slate products. For over four generations the Arata family has developed and refined the art of slate finishing and their products have served as the benchmark for quality in the slate industry.
Ardesit specializes in the production of premium billiard slate. With over 100 meters of automated plant space, we turn out slate that is unmatched for quality, consistency and precision. State of the art computer-controlled equipment allows Ardesit to match specifications for standards or customized requests.
Generations of experience assures a standard of quality that is often emulated, but never matched. Italian slate's superior geophysical properties are the reason that it is the surface of choice for any quality billiard table. Ardesit's years of experience and modern finishing facilities palys them in a prominent position among all suppliers of Italian Slate.

For a competitive quote for your slate needs please contact us: we'll be happy to tell you why Ardesit is the first choice of the most knowledgeable minds in the billiard business.